Lords of Rainbow
The Rainbow trilogy is a monumental epic fantasy about a world without color.
The first novel, a standalone work of romantic epic fantasy, is Lords of Rainbow, originally published in March 2003 by Betancourt and Company, and recently reissued in ebook format by Norilana Books.
A new 10th Anniversary edition, in trade hardcover and trade paperback, is coming soon.
Visit the Lords of Rainbow official website for more information.
The books in the trilogy are:
Lady of Monochrome

(book two, forthcoming)
Arch of Many Hues

(book three, forthcoming)
In a world without color, illuminated by a silver sun...




She is willing to fight for one man unto death...




Another is willing to die for her.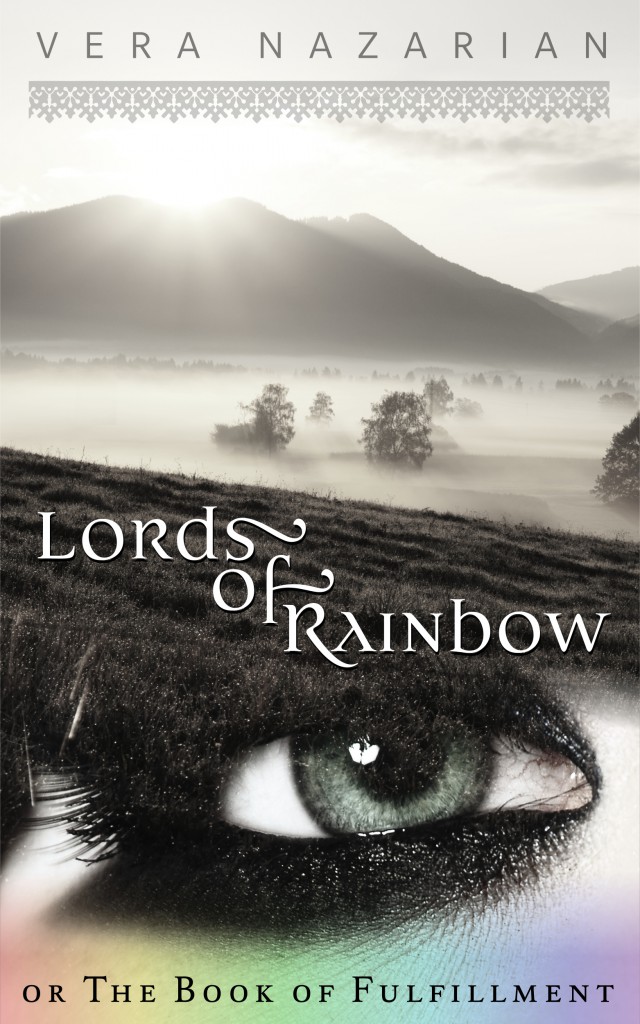 Praise for Lords of Rainbow
"Lords of Rainbow in particular, a stunning idea, fabulously employed—a book to submerge in!"
— Tanith Lee
"In a world devoid of color, the woman warrior Rahne swears herself to a mysterious nobleman traveling to the exotic city of Tronaelend-Lis, the City of Dreams, where a decadent brother and sister rule as co-regents in the absence of the land's true ruler. When an evil being representing true Darkness threatens the safety of the colorless world, Rahne is drawn into a spiritual journey in search of a legendary phenomenon known as Rainbow in an attempt to find a way to defeat the dark. The author of Dreams of the Compass Rose brings to life a unique fantasy world in which lost colors hold the key to salvation. Nazarian's fluid storytelling and vividly drawn characters make this unusual fantasy a good choice for most libraries."
— Library Journal
"Nazarian creates a unique civilization and populates it with heroic archetypes who stand on their own. Extravagant language reminiscent of Dunsany and even Tolkien adds to the legendary feel.... an innovative premise, consistent world-building, and appealing heroes mark this as the work of an emerging talent... readers may find themselves heralding a new star of fantasy fiction."
— Romantic Times
"Nazarian's world is not a typical fantasy setting—it's set in a world that didn't know color until the appearance of a strange new sun. Her story is filled with adventure but it also works on a much less physical level, with very strong characterization and an almost poetic feel to the prose. . . I suspect that weeks from now the images that I retain will be from Nazarian's bizarre otherworld."
— Chronicle
"I found myself aching to read the book again after I had finished it. The style is new and fresh in the fantasy genre, it breaks fundamental rules with wild abandon and carries it off superbly."
— Donna Jones, SFCrowsnest.com
"Lords of Rainbow is an enjoyable read with surprising character twists and vivid, although black and white, description... it's a book that pulls you in and makes you believe in a real monochrome world and a fantasy that grabs you and takes you away."
— Shirley Gibson Coleman, SF Romance Online
"Vividly described in rich prose that entrances like a magic spell, Lords of Rainbow will resonate with readers like the stories of childhood. It is not only prefaced with a lovely and accessible poem, it also reads like poetry. Thus, when taken as fable, there is much in this book to love. For in the end, we find a twisted Cinderella tale where an ugly, common girl can be elevated by noble spirit, and a city can be transformed by magic."
— Stephanie Dray, Strange Horizons
"The novel therefore works on three levels — it is simultaneously an examination of the nature of faith, of the nature of power, and of the relationship shared between those two things; and in these examinations, with a story set against foreboding conflict, Vera Nazarian finds great potency and great relevance to the world we live in today, despite the unfamiliar, haunting, and ultimately unforgettable locale of her tale."
— Daniel James Wood, The Green Man Review
"But no mere words of mine can convey the experience of reading Lords of Rainbow. Just believe me, and read."
— John Grant, Crescent Blues
From the book jacket:
"To read Vera Nazarian's Lords of Rainbow is to be immersed in a dream, wandering through a wondrous, shifting landscape where the sun shines silver and the world is rendered in an infinite palette of subtle grays, filled with glimpses of sublime loveliness and glorious color."
— Jacqueline Carey, author of Kushiel's Dart
"... like all of Vera's stories—strange, poignant, and exquisite.... her novel about a world without color—strange when what she writes is so colorful."
— Marion Zimmer Bradley
"In Lords of Rainbow, a current of liquid prosody carries us deep into the heart of an exotic city — and deep into the heart of an extraordinary woman. But every character is a vibrant revelation in this luscious, variegated realm of light and shadow. All emotion rings true in this place, and all truths shine with prismatic complexity. At once brutal and tender, transcendent and visceral, Nazarian's lush fable enthralls."
— Terry McGarry, author of Illumination
"Vera Nazarian's second novel, Lords of Rainbow, is a delight, full of the rich imagery, the humor, lyricism, adventure, insight, and delicious eastern fairy tale flavor that readers first met in Dreams of the Compass Rose. Nazarian gives us a tale wove out of color — unpredictable, funny, wise, and always entertaining. She's a talent to watch."
— Sherwood Smith, author of Crown Duel