Bio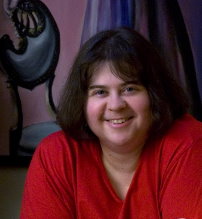 Vera Nazarian
Photo Copyright © 2007 by John Lucas
Vera Nazarian is arguably the only Armenian-Russian professional speculative fiction writer working in English today.
Her life story is an unusual journey. She left the former Soviet Union at the height of the Cold War as a refugee at the age of eight, with her parents and nothing but a couple of suitcases, and arrived in the United States in 1976, a month before her 10th birthday, by way of Lebanon, Greece, and Italy.
Settling in the United States, she graduated from Immaculate Heart High School in Hollywood, CA in 1984, and then attended Pomona College in Claremont, CA, where she double-majored in English and Psychology. She received her B.A. in 1988 and soon after went on to work for over a decade in the high tech industry.
Holding down a full-time tech job by day, she would come home to begin her evening job, that of a professional fantasy and science fiction writer and artist and musician. Sleep was for wimps!
Writing Credits and Honors
Writing came soon in Vera Nazarian's life — as soon as she figured out the English language, she started to write in it, wrote and dreamed all through elementary, junior high and high school, and sold her first short story at the age of 17 to the second volume of Marion Zimmer Bradley's popular DAW anthology series Sword and Sorceress.
Since then she has published numerous works of short fiction in anthologies and magazines such as the Sword and Sorceress and Darkover anthology series edited by the late Marion Zimmer Bradley, bestselling author of the classic Arthurian novel THE MISTS OF AVALON (made into a TNT original mini-series starring Julianna Margulies and Anjelica Huston) who became her editor-mentor over the years, THE AGE OF REASON edited by Kurt Roth, OUTSIDE THE BOX edited by Lou Anders, BEYOND THE LAST STAR edited by Sherwood Smith, STRANGE PLEASURES #2 edited by Paul Barnett, LORDS OF SWORDS edited by Daniel E. Blackston, BEST NEW ROMANTIC FANTASY #2 edited by Paula Guran, MZBFM, Talebones, On-Spec, Visionair SF, Maelstrom SF, Colonies SF, Jabberwocky, Fantasy Magazine, Black Gate, and has seen her work translated into French, German, Spanish, Italian, Dutch, Czech, Hebrew, and Hungarian.
Her debut novel, a mythic philosophical fantasy of many layers, DREAMS OF THE COMPASS ROSE (on the 2002 Nebula Awards® Preliminary Ballot for Best Novel) was published in May 2002 by World Fantasy Award-winning Wildside Press, and her second novel, an epic fantasy about a world without color, LORDS OF RAINBOW, was published in March 2003.
Both novels were nominated for the Spectrum Awards — in 2003 and in 2004.
Her first collection, SALT OF THE AIR, spanning work from 1985 to 2005, with an introduction by Gene Wolfe, was published by Prime Books / Wildside in September 2006, then reissued in a revised and expanded definitive edition in April 2009 from Norilana Books. The collection includes the 2007 Nebula Awards® Finalist short story "The Story of Love."
Her limited edition novella The Clock King and the Queen of the Hourglass, with an introduction by Charles de Lint, was released by PS Publishing in October 2005.
Another novella The Duke in His Castle was released in an illustrated edition from Norilana Books in 2008, and was a 2008 Nebula Awards® Finalist.
Her other books include the titles in her Supernatural Jane Austen Series, a hilarious and surprisingly romantic "monster mash-up" parody series, beginning with Mansfield Park and Mummies: Monster Mayhem, Matrimony, Ancient Curses, True Love, and Other Dire Delights (2009) by Jane Austen and Vera Nazarian, followed by Northanger Abbey and Angels and Dragons (2010) and Pride and Platypus: Mr. Darcy's Dreadful Secret (2012), available from Curiosities, an imprint of Norilana Books.
Most recent work includes The Perpetual Calendar of Inspiration (2010), Vampires are from Venus, Werewolves are from Mars: A Comprehensive Guide to Attracting Supernatural Love (2012), the Cobweb Bride Trilogy (2013), and The Atlantis Grail Series (2014-2015).
Professional Affiliations
She is an active member of Science Fiction and Fantasy Writers of America (SFWA).
Citizenship
After many years without a country, Vera Nazarian is proud to be a United States Citizen.
Themes
Ancient myth, moral fables, eclectic philosophy, and her Armenian and Russian ethnic heritage play a strong part in all her work, combining the essences of things and places long gone into a rich evocation of wonder.
Languages also figure prominently in her experience. Vera is a native speaker of Russian and Armenian, is fluent in Spanish, and has studied Mandarin Chinese and German. And yet, English is her language of choice when it comes to writing.
Current Work in Progress
Vera Nazarian is currently at work on a number of book-length projects:
LADY OF MONCHROME — Sequel to LORDS OF RAINBOW which will make it a trilogy. Unlike the epic-scale grand fullfillment theme of the first book, the sensibility here is that of the homecoming last portion of Jane Eyre and The Odyssey in a high-fantasy world, mixing in politics and culture clash. (Complete outline of book one available.) Book three will be titled ARCH OF MANY HUES, with the sensibilities of the movie Mr. and Mrs. Smith.
Airealm — Science fantasy trilogy about a world of no land, only sky, and the people who live on the floating debris in the Boundlessness — and where the Power of Up and Down (the force of gravity) is manipulated like magic. Books One, Two and Three are AIREALM, FLUCTUATION, and STABILITY. (First three chapters and complete outline of book one available, plus trilogy outline.)
GODS OF THE COMPASS ROSE — Another standalone book in the Compass Rose ancient fantasy world milieu. A mythic-philosophical puzzle is revealed through mysteriously connected stories in the vein of The One Thousand and One Nights.
The Adventures of Ruricca NoOnesDaughter — Fantasy trilogy chronicling the magical adventures of her popular waif-wisewoman character Ruricca NoOnesDaughter. Book one, currently in progress, is THE HANGED WOMAN.
Margot Phoenix Quartet — Four-book kickass paranormal romance series about female heroine Margot Phoenix, an Elemental with powers over the four elements Air, Earth, Water, and Fire (not to mention hydrogen, oxygen, copper, zinc, and everything else in the Periodic Table), and who — like Buffy, Anita Blake, and Betsy Taylor — fights supernatural evil, mundane corruption, and any occurrences of dim wit all around the globe, at the same time as she fights to win the heart of Julian Kilburne, the elusive man of her dreams. Book one, currently in progress, is MARGOT PHOENIX RISING. Book two will be MARGOT PHOENIX IN FLIGHT, book three MARGOT PHOENIX IN FLAMES and book four MARGOT PHOENIX IN STONE.
DEOGASM — Standalone fantasy about a world in the thrall of a Deity that experiences a cataclysmic orgasm once a millennium, and which comes as a natural disaster. A plain poor girl, a temple servant of "vestal virgin"-like priestesses dedicated to a cruel beautiful god, ends up in charge of the god himself when he is miraculously made a mortal man of flesh and blood and left to fend for himself in a decadent world similar to ancient Rome.
Pantheon — Near-future SF trilogy about global politics and human evolution, set in in the same universe as her acclaimed story "Rossia Moya" which made the 2000 Nebula Awards® Preliminary Ballot and received an Honorable Mention from Gardner Dozois in his YEAR'S BEST SF, Volume 17. Book One is IDIOTS PANTHEON, Book Two is LOVERS PANTHEON, and Book Three is DEMONS PANTHEON.